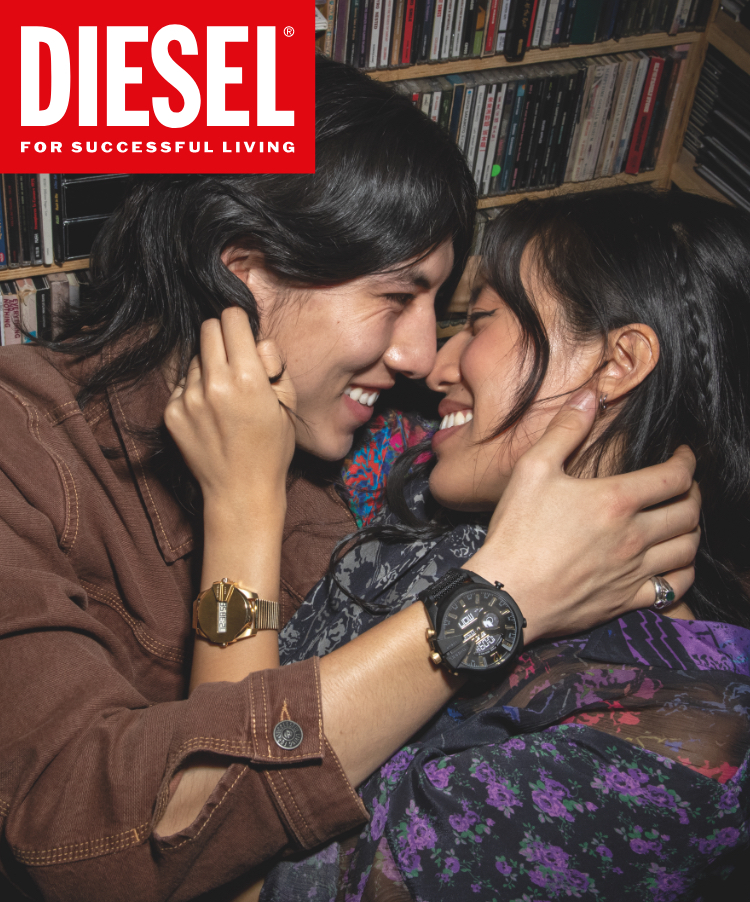 Bold, ironic and never shy, Diesel is a brand that doesn't follow
trends, it makes them. Diesel watches reflect the confident,
assertive nature of the brand; large, loud and never afraid of
color, they don't follow the "rules" of casual watch design,
preferring to blaze new ground whenever possible.
Shop Now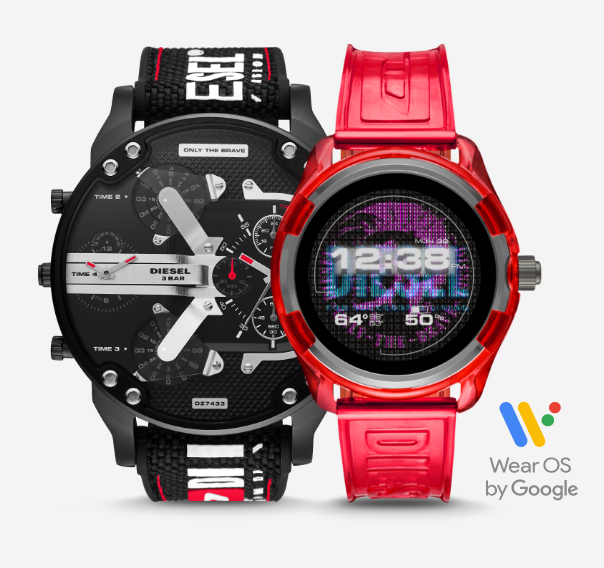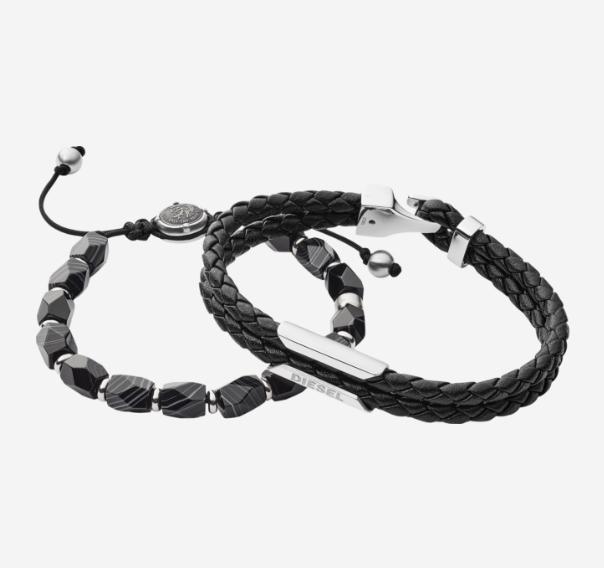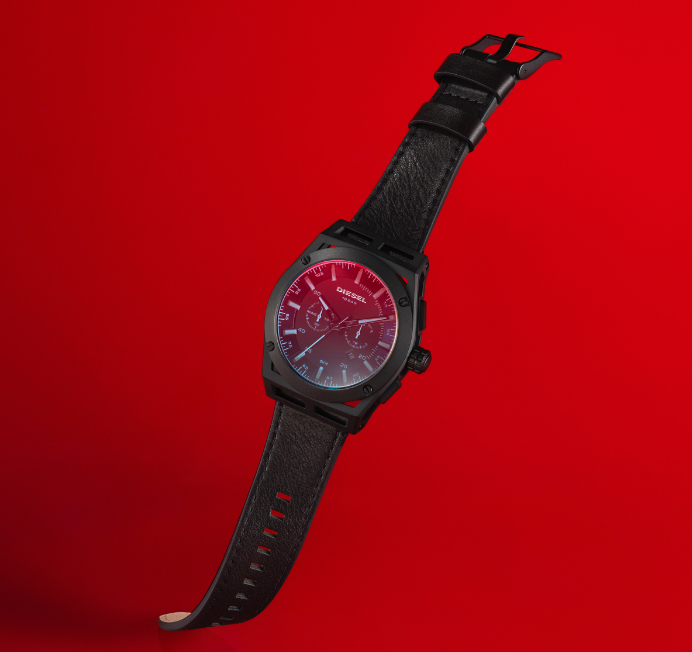 DO OR DIVE
New Timeframe watch resuscitates the tired diver trend with an extreme sports-style approach. Functional elements receive a statement-making refresh with a lightweight scuba-style cordura-on-leather strap featuring printed repeat text and bold logos.
SHOP NOW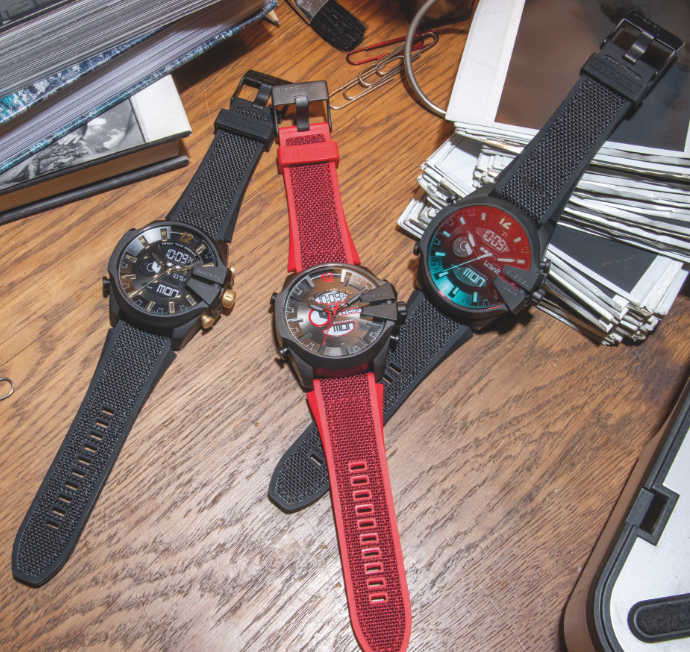 DIGITAL AGE
Asserting its own ideas of styling, proportions and use of hardware elements, Diesel's Mega Chief watches are not for the faint of heart. Evolutions of function and size take this living legend to the next level with its first-ever analog-digital movement.
SHOP NOW
Diesel Watches Give You Bold Standout Style
Never ones to shy away from a bold design or challenge, Diesel watches have all of the standout details you love. Whether you're looking to make a statement on a special night or just show off your confident and assertive style, watches by Diesel are ready to take your look to the next level. Shop new, trend-setting styles and classic favorites at Watch Station International and discover why everyone loves shopping here. We've made it easy for you to find colors, designs and so much more that you love. You can also find intriguing jewelry designs and smartwatches as well. You're style is iconic and never overlooked; making Diesel watches the must-have accessory for your wardrobe.
Watches by Diesel Add Color to Your Day
Some people are hesitant to add color into their looks – opting instead for a lifetime of neutrals. While there's nothing wrong with that and everyone's style is cool and authentic, we know that watches by Diesel are made for people who live out loud in color and design. Whether it's the only pop of color in your ensemble or it's one of many bright hues, Diesel watches provide personality and unforgettable details.
Diesel watches are big, brilliant and unapologetically different. No level of conformity to be found here. An enlarged watch face provides standout, get-noticed style no matter what you pair it with. On top of that, watches by Diesel feature stunning details, usually on the dial, so no look is ever boring or simple. Even though these iconic watches are bold, they seamlessly fit in with any look. Wear them to work, out with friends, on vacation, to concerts and everywhere in between. The distinctive look of a Diesel watch makes it instantly recognizable. Both men's and women's watch designs provide timeless style that sets the trend for every season and that last well beyond.
Take your look one step further with Diesel smartwatches. These high-tech accessories help you stay connected to what's important without giving up an ounce of your unique style. Create custom watch faces and enjoy features like multi-day battery life, heart rate tracking, GPS, activity tracking, a speaker, smartphone notifications and so much more. A smart watch by Diesel is the perfect combination of unapologetic style and innovative technology. Don't be afraid to be loud, bold and creative – it's part of the Diesel DNA.
Jewelry Designs & Watches by Diesel Move Your Style Forward
Once you've selected the perfect watch by Diesel, it's time to find the perfect piece of Diesel jewelry. Masculine bracelets and jewelry take things a step further in helping you express your individual style. Layer your watch with a stainless steel ID bracelet or create a new look entirely – the choice is yours. Shop the bold Diesel designs you love at Watch Station and discover everything you love in one convenient place. You're confident, uncomplicated, bold, loud, iconic and distinctive, which is what makes these watches perfect for you. Explore unique ways to keep your style on the cutting edge of fashion and ensure your trendsetter reputation with Diesel watches from Watch Station.